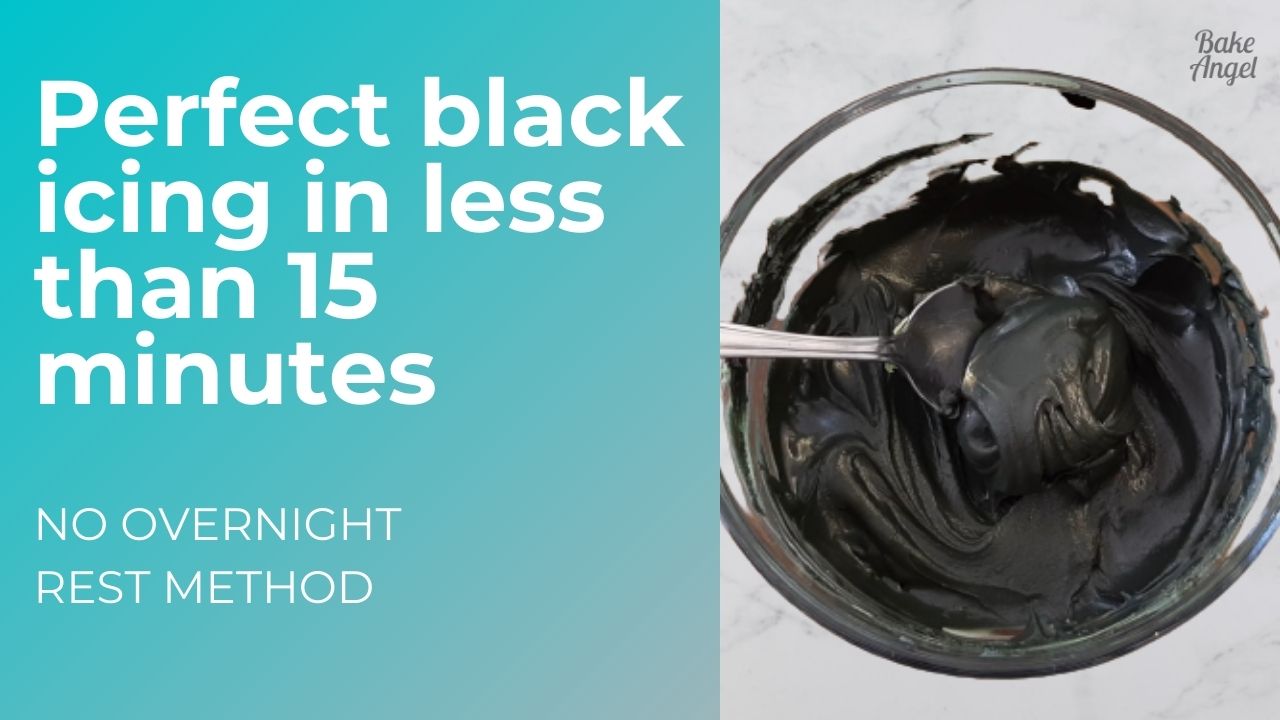 Wait, what? No more waiting overnight for the colour to develop? That's right. If you have ever struggled to make perfect black icing, this is the post for you. And yes, it is possible to make black icing in less than 15 minutes! Want to jump straight to the method? Click here or read on for more details about different ways to make black icing.
A few years ago I discovered a technique that can be used to make black icing very quickly. A technique that doesn't oversaturate icing and with no need to let the colour develop. If you are a baker that regularly makes icing, you will know that black (and red) are both known as colour nemesis'. They can be a struggle to make, and when you need such a specific colour it can be frustrating. Most bakers plan ahead and make deep colours the day before so that they have time to develop before continuing on with their decorating. But what about those of us who are impatient, those who forget to plan ahead, or realise last minute that we need a small amount of black icing?
Different methods
There are a few different ways that you can make black icing:
You can add a boat load of black food colouring and hope for the best. I'm not a fan of this method as it will oversaturate your icing and stain your teeth as well (eeek at party guests all walking around with stained teeth). It also doesn't taste great when you use a lot of black food colouring. I'm talking about the overpowering bitter taste which will spoil your desserts.
Many decorating suppliers have created ready-to-go mixes to which you just need to add water to, such as Celebakes and Ann Clark. These are great but more costly.
Most grocery and craft stores sell ready-made coloured icing and fondant that you can use right out of the tub. This is a great option if you're in a rush but the consistency is usually not all that great and let's not even talk about the taste.
Some bakers mix all of their old coloured icings together which will eventually make black. If you look at a colour wheel or know anything about colour theory, this completely makes sense. While this is a great way to use up leftover icing, you can store bagged icing in the freezer and keep it for a rainy day. I like to do this when I have a few cookie sets planned and will need certain colours.
You can add cocoa powder to your icing to achieve a brown base so that you use less food colouring. But not everyone wants chocolate flavour icing (even though it taste so good) and some may be allergic to it so I don't advise using this method.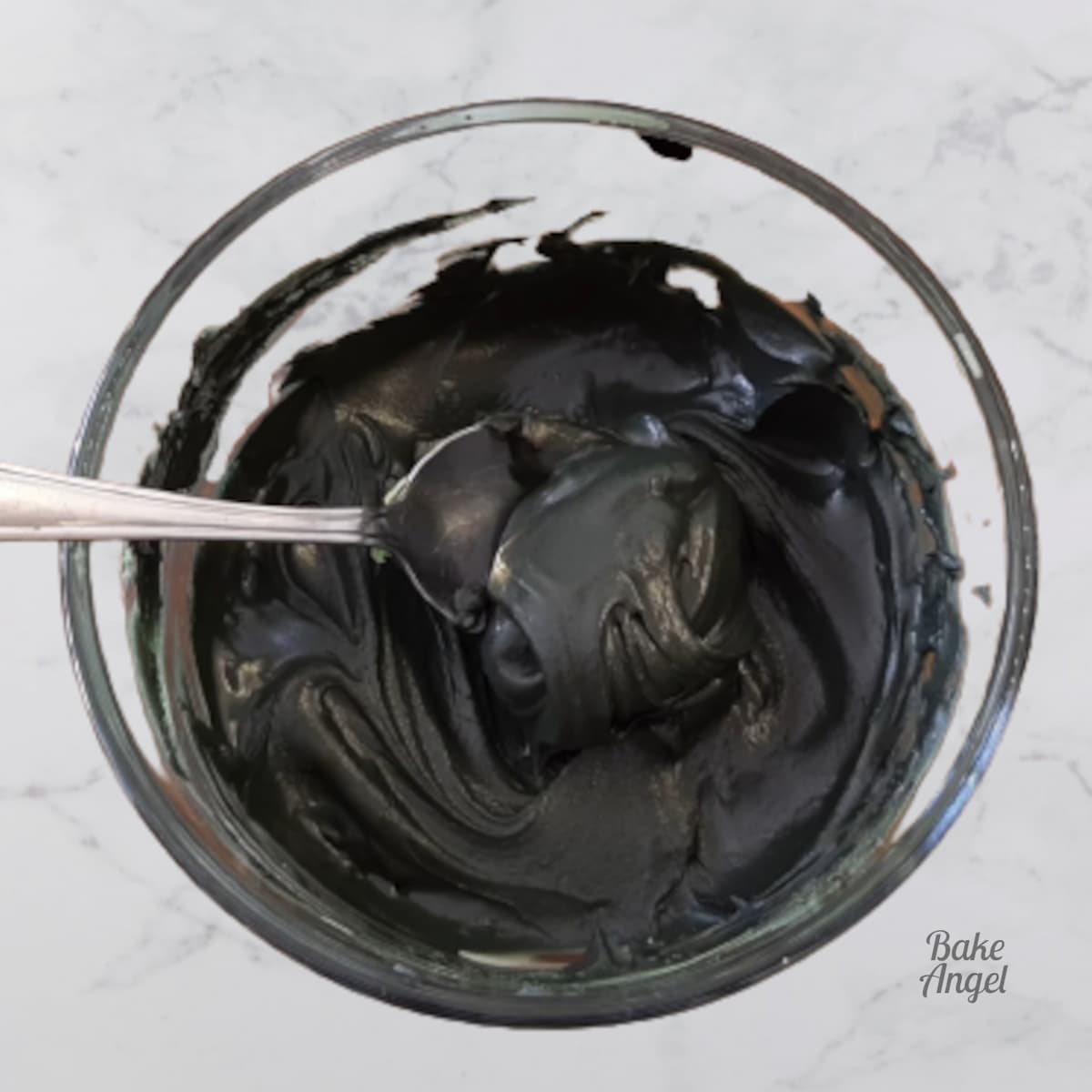 I don't use any of these methods!
My tried and tested method has been recommended in many decorating groups on Facebook and watched by over 89 thousand viewers on Youtube. And I'm going to break it down for you right here. If you squeeze a dab of black food colouring onto a spoon and add a drop of water to it, its base colour will emerge right in front of your eyes. For most of the major brands, the base is either green or blue (Americolor, Hobby Lobby Sunnyside and Wilton). Sound good? Keep reading. You can also check out my FAQ section for more tips.
How to make perfect black icing
To make perfect black icing you will need:
royal icing (this method also works with fondant, buttercream, whipping cream and meringue)
water
spoon
pipette (I prefer to use one of these to do the base colour test but it's not essential)
black food colouring (I highly recommend using Americolor Super Black)
First, do the colour test described above (click here if you skipped that part). Add a small amount of black food colouring to a spoon and add a drop of water to it. Watch as the base colour appears. Using your white icing and appropriate base colour, make up the base for your black food colouring.
Once you have achieved this base, add a few drops of black and mix with a spatula until combined. Within minutes, you will have perfect black icing. It's really that simple. No fancy tricks or tools are needed. And best of all, there's no time wasted so you can carry on with your decorating. Seriously, this is a game-changer.
Penguins
Aren't these just adorable? This is an example of how amazing the black icing looks. I made the black icing just before I iced the cookies. I don't tend to have a lot of icing hanging around so it was great to make up a quick batch for these. I flooded the black icing first and then added white immediately afterwards. Piping two colours immediately after each other, without letting one dry, will stop the colours from bleeding into each other. Watch the full tutorial for these penguin cookies here.
Additional Questions
Does this method work on different icings?
I have tried, tested and regularly use this method with royal icing, buttercream and also fondant. This method also works well with whipping cream and meringue, although please avoid over-whipping as you will lose the air in your cream/meringue.
What brand of food colouring do you recommend for black icing?
My go-to brand for black food colouring is Americolor. I prefer their Super Black colouring. Hobby Lobby's Sunny Side brand also gives very similar results.
Will this method affect the taste of my icing?
My quick black icing method uses less food colouring than more traditional methods where you would keep adding more and more colouring until you achieve the correct shade. As such, the taste of your icing should not be affected.
Will it work as well on Italian meringue buttercream aka boiled icing?
Yes, it should work well. I have tried this method with swiss meringue and it turned out great. Just be careful when you are adding in the colour. I would fold it in for meringue rather than stir it.
Watch the full tutorial here:
Did you find this useful? Why not check out more of my Top 15 Cookie Decorating Tips here: Cookie Decorating