Hands up if you love rice krispie treat squares! They're definitely a favourite in our home but did you know that they normally have dairy in them? Or that they are ridiculously easy to make at home? Here's my easy allergy friendly recipe for dairy free rice krispie treats. We'll be adding some sprinkles to them to add a pop of colour which makes this iconic treat even more delicious.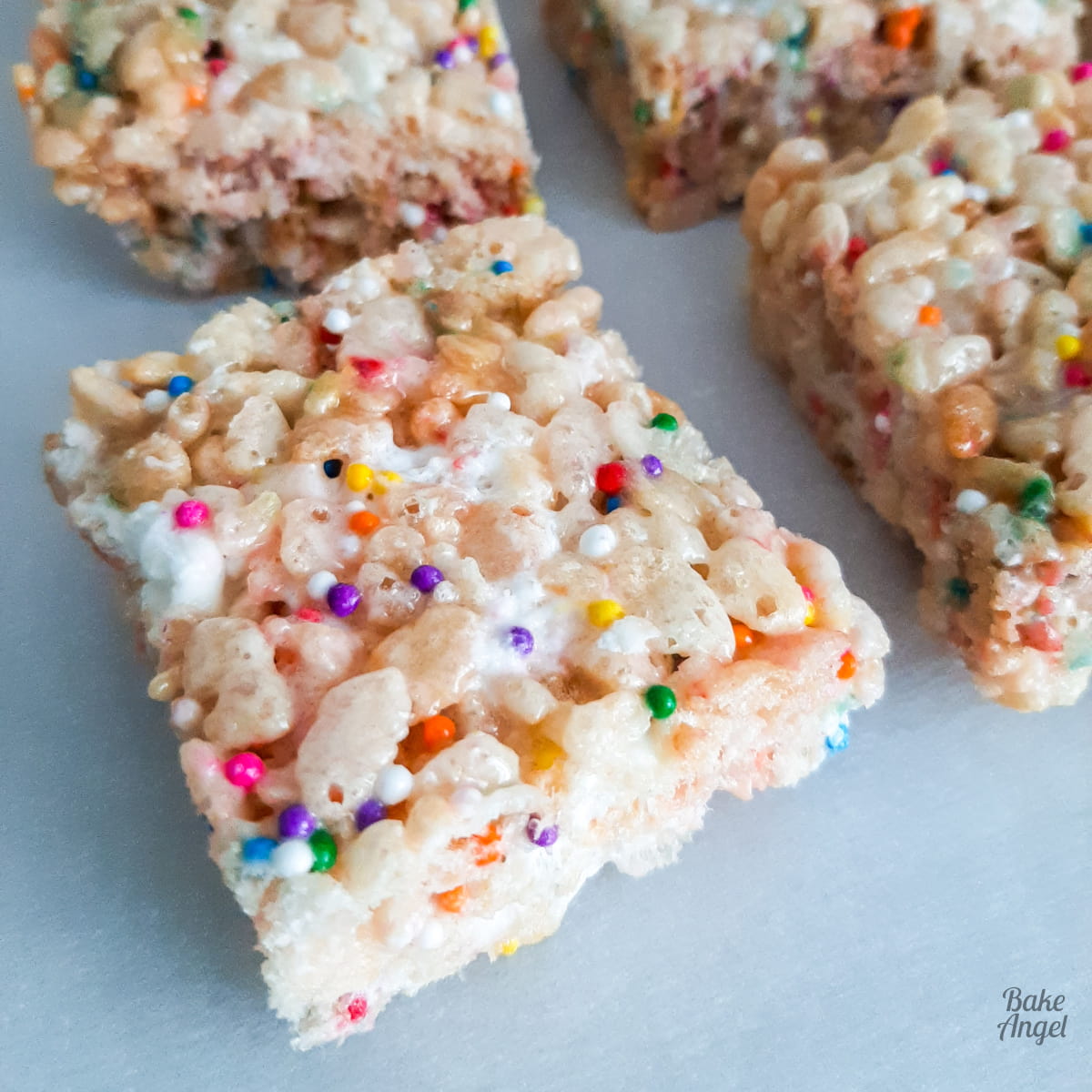 Why You Need to Make These
Rice krispie squares are a great snack to make for a road trip or to add to your kids' lunch boxes for a mid day treat. Even adults will love these as they'll bring back happy childhood memories. And this recipe is allergen friendly as it contains no dairy, no soy, no nuts, and can be easily veganised or made gluten free as well.
Ingredients and Substitutions
This recipe is free from most major allergens which makes it the perfect safe snack to make for any occasion. For flavour suggestions and other questions, check out my FAQ section below.
Butter: I am using plant based unsalted butter to add richness to the rice krispie treats. No need to pull your butter out of the fridge to bring it to room temperature before making this recipe as we will be melting the butter. You can use dairy butter if you are not dairy free or vegan.
Marshmallows: I prefer to use mini marshmallows whenever I am making rice krispie treats as they melt quicker. If you only have large ones, cut them up first. If you are vegan, use plant based marshmallows. I have tried the 'Dandies' brand and highly recommend them.
Cereal: I use traditional rice krispies but any store brand will also work. You could even make this treat with different types of cereal. Experiment and let me know what you try in the comments below. We've made this recipe with corn flakes as well and they turned out so good! Use gluten free rice cereal if you are gluten intolerant (Kellogs rice krispies contain barley malt which is not gluten free).
Sprinkles: anything goes when it comes to adding sprinkles to this recipe. I used nonpareils as the ones I buy from our local bulk store just happen to be dairy free. If you follow a no dairy or vegan diet, ensure that you double check the ingredients of your sprinkles as many contain milk. Some manufacturers often use confectioners glaze in them as well which may be derived from beetles (I know, sounds gross) so be aware if you are vegan.
How to Make Dairy Free Rice Krispie Treats
Start by greasing and lining your chosen baking pan or dish with parchment paper. This will make it easier to remove the treats once they have firmed up. I have made this recipe with an 8 x 8 pan and also a 9 x 13 dish. The size of your dish will dictate the depth of your treats. So if you prefer thicker treats, use a smaller pan. Use a larger pan for thinner treats. You can even make this in a round pan and make 'pie' slices.
To a large saucepan, add 90 grams (6.5 tbsp) of butter. Melt over a high heat until fully melted.
Add in 3/4 of your marshmallows (approx 300g / 6.5 US cups). I like to keep some marshmallows to one side to add them in at the end so that you have extra pieces of marshmallow in the treat squares, rather than just the yummy gooeyness throughout if you add all of them at once. Trust me, it's worth doing.
Stir the marshmallows and melted butter with a wooden spoon or spatula until fully combined. The heat from the butter will melt the marshmallows fairly quickly.
Let's add the cereal
Turn off the heat and stir in 170 grams (6 US cups) of rice krispie cereal.
Add in the remaining marshmallows and 50 grams (4 tbsp) of sprinkles. Gently fold in. Do not over mix at this point as it will cause the sprinkles to bleed. We also want to ensure that the remaining marshmallows retain their shape and do not melt fully.
There we go! Nice and easy.
Spread the mix into the prepared pan or dish and flatten with a piece of parchment paper. Yes, it is very sticky at this point so don't worry if it seems like this stage is a bit of a fight with the mix. It really does want to stick to everything but that's what makes it so good!
Set the dish aside and allow it to firm up at room temperature. This usually takes around 30 minutes. The longer you leave it the firmer it will get. Do not refrigerate the pan at this point – the rice krispie treats do not need to be chilled to set. It will firm up at room temperature.
Once firm, lift out the slab of rice krispie treats onto a cutting board and cut up into squares.
This recipe made 12 2-inch squares. Ready to dig in? Keep scrolling for the printable recipe card and video.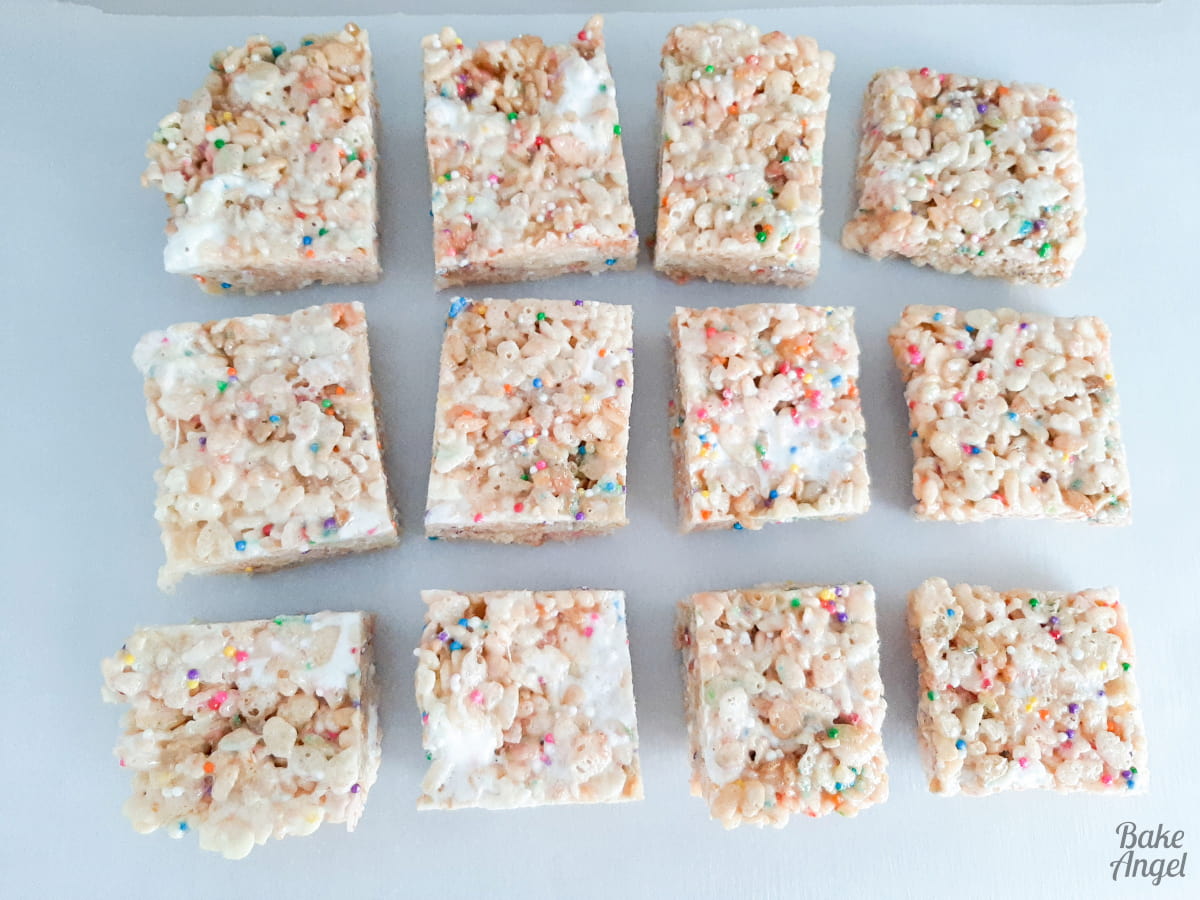 Different Options
Why not jazz up your dairy free rice krispie treats even more by drizzling them with melted chocolate or adding some fun flavours to the mix, such as cotton candy essence or even strawberry! The possibilities are endless. You could even add some marshmallows from Lucky Charms for an even more colourful treat!
Common Questions
How many squares does this recipe make?
That depends on how large/small you cut them and the dish size that you use. We got 12 2-inch squares from this recipe.
Can I make this recipe vegan?
Yes, absolutely. Ensure that the sprinkles you use are vegan friendly (don't contain shellac or animal-based confectioners glaze) and use plant based marshmallows.
How should I store these treats?
Cover the treats with parchment paper and store them at room temperature. Pop them in an airtight container if you will not be eating them within a few days. They will continue to firm up over time and you can always warm them slightly in the microwave (no more than 5 seconds at a time) if you prefer softer treats.
Can I freeze them?
You can but I would advise against it as it will affect the consistency. When stored correctly, these treats will remain fresh for several weeks. They are so full of sugar that they are not going to spoil quickly.
I love the extra pop of marshmallow gooeyness that we have throughout the squares. Adding some of them at the end makes such a difference.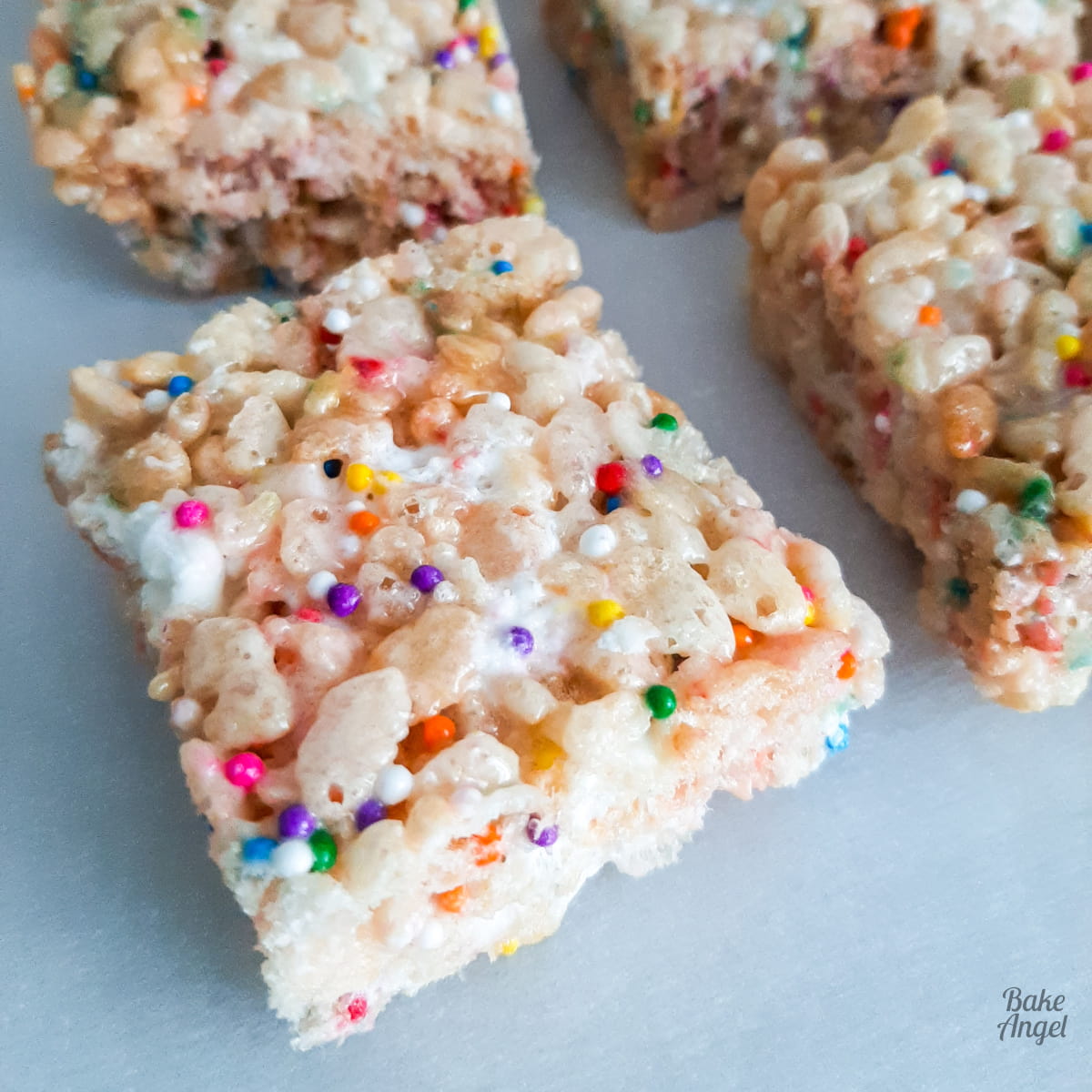 Craving More Dairy Free Mini Treats?
For more fun party treats and kids' favourites, check out these recipes:
Dairy Free Rice Krispie Treats
Bring some colour to any party with allergy friendly rice krispie treats. Better than the store bought alternatives and so satisfying to make. Easy gluten free and vegan option.
Equipment
Saucepan

Wooden Spoon

(can also use a silicone spatula)
Ingredients
90

grams

Plant Based Butter

(6.5 tbsp)

400

grams

Mini Marshmallows

(Approx 8.75 US Cups)

170

grams

Rice Cereal

(6 US Cups)

50

grams

Sprinkles

(4 tbsp)
Instructions
Grease and line a 9 x 13 pan or dish.

In a large saucepan, melt 90g of butter. Once melted, fold in 3/4 of the mini marshmallows and continue to stir until melted.

Turn off the heat and stir in 170g of rice cereal. Add in the sprinkles and remaining marshmallows and gently fold. Do not overmix as it will cause the sprinkles to bleed. We also want to ensure that the marshmallows do not fully melt.

Spread the rice krispie mix in the dish and allow it to firm up completely. This may take anywhere from 30 minutes to a couple of hours depending on the humidity in your kitchen.

Remove the slab of rice krispie treats from the dish and cut up in to squares.
Notes
If you do not have a 9 x 13 dish, you can use any other size. For smaller dishes, your treats will be thicker, for larger dishes, they will be thinner. 
I used a 400g bag of mini marshmallows. If you can only buy larger bags, use all of them. You can never have too many in rice krispie treats! 
To veganise this recipe, use vegan mini marshmallows. Ensure that your sprinkles are also vegan (a lot use shellac, which is not vegan friendly). 
Use gluten free cereal if you are gluten intolerant. 
To store, cover with parchment paper and store at room temperature. These treats will last for at least 1 week. No need to refrigerate.  
For more flavour combinations, check out the full recipe post. 
Nutritional information is based on 1 square per serving with 12 servings per recipe. Nutrition information is calculated based on the ingredients in this recipe. It is an estimate only and is provided for informational purposes. You should consult your health care provider or a registered dietitian if precise nutrition calculations are needed for health reasons.
Nutrition
Serving:
1
Square
Calories:
231
kcal
Carbohydrates:
41.8
g
Protein:
1.1
g
Fat:
6.1
g
Saturated Fat:
0.8
g
Sodium:
158
mg
Potassium:
14
mg
Sugar:
20.6
g
Calcium:
1
mg
Iron:
4
mg